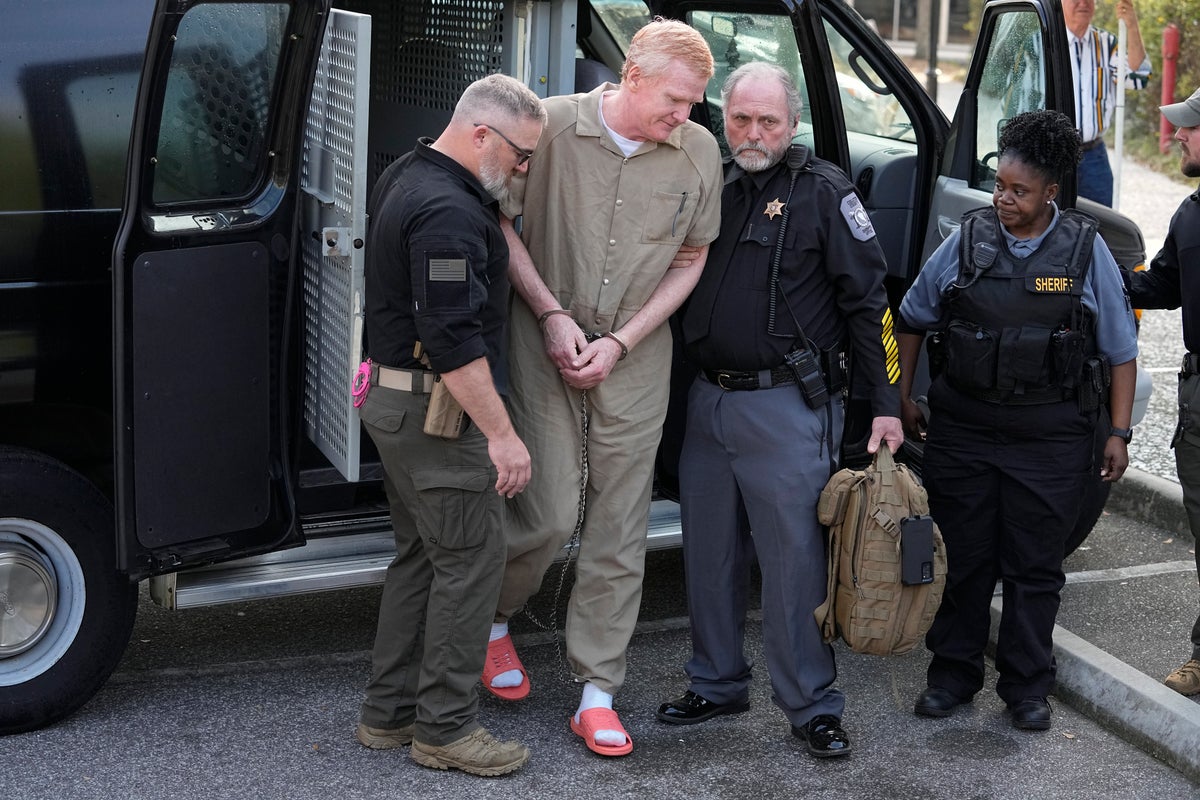 A chained Alex Murdaugh continued to maintain his innocence when he was sentenced to life in prison for the brutal murders of his wife Maggie and son Paul.
The disgraced legal dynasty's heir appeared for his sentence Colleton County Courthouse Friday morning where he was told he will spend the rest of his life behind bars.
Dressed in a prison jumpsuit, with his hands in handcuffs and his feet shackled, it was a far cry from the powerful and wealthy lifestyle Murdaugh once enjoyed as the heir to a family that once dominated the lowland legal system.
As his surviving son Buster and other family members watched from the public gallery, Murdaugh stood and again addressed the court, insisting he was innocent of the brutal June 7, 2021, murders.
"I am innocent. I would never hurt Mrs. Maggie and I would never hurt my son PawPaw," he said in court.
While giving a one-line statement professing his innocence, he then appeared to nod in agreement as Judge Clifton Waters told him he will have to deal with what he did to his wife and son every night when he closes his eyes.
"I'm sure they'll come and see you," the judge said.
Murdaugh agreed that they do "all day and every night".
But when he was then given the opportunity by the judge to come clean, the disgraced lawyer and serial liar repeated his declaration of innocence.
"I'll say it again. I respect this court, but I'm innocent, and I would never under any circumstances harm my wife, Maggie, and I would never under any circumstances harm my son Paul," he said.
Judge Newman didn't buy it, telling him: "It might not be you. It might be the monster you become when you take (a high volume of) opioids."
While giving Murdaugh the chance to finally tell the truth once and for all, the judge admitted he "wouldn't expect a confession of any kind".
At one point he asked him what he had meant in the witness box when he said "oh what a tangled web we are weaving".
"I meant I lied and kept lying," he said.
Judge Newman asked him "when will it end?" when he recounted how Murdaugh consistently lied to investigators in the 20 months since the murders—and then changed his story and still continued to lie when he could no longer get away with his lies.
The judge indicated that he — in his eyes — believes Murdaugh should have been sentenced to death for the heinous murders of his wife and adult son and suggested he would have imposed the death penalty if prosecutors had requested it.
Judge Newman said other inmates had been sentenced to death for much less but prosecutors had taken the death penalty off the table.
Speaking directly to Murdaugh, the judge told him his case was "one of the most disturbing cases" he had ever dealt with – noting that the killer was a skilled lawyer from a prominent lowland family.
"We have a wife who has been killed, murdered, a son brutally murdered, a lawyer – person from a respected family who has been in control of justice in this community for over a century – a person whose grandfather's portrait hung on the back of the courthouse – that I had to have ordered removal to ensure a fair trial, he said.
"It is also of particular concern, Mr. Murdaugh, because as a member of the legal community … you have practiced law before me, and we have seen each other on various occasions over the years.
"It was particularly heartbreaking for me to see you go in the media from being a grieving father who lost his wife and son to being a person charged and convicted of killing them."
'I would never hurt my wife and my son': Alex Murdaugh speaks out before sentencing
The judge admonished Murdaugh for continuing his lies in the courtroom — after he took the stand, changed his alibi and continued to deny killing his wife and son.
"And you have engaged in such a double act here in the courtroom, here on the witness stand," he said.
The court expected to hear victim impact statements, but prosecutor Creighton Waters revealed that none of the victims wished to speak at this time.
The sentencing hearing began at 9:30 a.m. ET, when Mr. Waters asked the judge to impose the harshest possible sentence of two consecutive life sentences.
"It shows that this man is a cunning manipulator, a man who put himself above all others, including his family, a man who violated the trust of so many – including his friends, his family, his partners, his profession, but most of all Maggie and Paul," he said.
"Such a man should never again be allowed among free, law-abiding citizens," he said.
Mr Waters said Maggie and Paul "like everyone else were unaware of who he really was… nobody knew who he really was and that's terrifying".
During the course of the investigation and trial, the lead prosecutor said he had discovered who the real Alex Murdaugh really was.
"I've looked into his eyes. He liked to stare me down as he walked past me during this trial. And I could see the real Alex Murdaugh," he said.
Mr Waters offered his condolences to the Murdaugh family for the deaths of Maggie and Paul – who were both killed "in their prime".
He faced 30 years to life in prison on each count murder fees and five years on each weapons charge. Sentences can be served simultaneously – or consecutively.
On June 7, 2021, Maggie and Paul were gunned down on the family's 1,700-acre property.
Paul was shot twice with a 12-gauge shotgun as he stood in the dining room of the kennels – the second shot to the head blew his brain almost completely out of his skull.
After killing Paul, prosecutors said Murdaugh then grabbed a .300 Blackout semi-automatic rifle and opened fire on Maggie as she tried to escape from her husband.
She was shot five times, two of them in the head after she had fallen to her knees.
Prosecutors said Murdaugh killed his wife and son to distract from his string of financial crimes — at a time when his multimillion-dollar fraud scheme was on the verge of being exposed.
Moment disgraced lawyer Alex Murdaugh sentenced to life in prison
Jurors were told that on the day of the murders, Murdaugh was confronted by his law firm's CFO about missing money he had stolen.
Three days after the murders, a hearing was also scheduled to take place in a fatal boating accident trial.
In February 2019, Paul was allegedly drunk driving the family's boat when it crashed, killing his 19-year-old friend Mallory Beach.
While Paul was facing felony charges for the crash, Murdaugh was being sued by the Beach family, and their attorney had filed a motion to compel access to his finances.
Over four weeks and 61 witnesses, prosecutors laid out this alleged motive for the murders as well as presenting the bizarre hitman plot as part of his pattern of making himself a victim when accountability knocked on his door.
On September 4, 2021 – one day after he was fired from his law firm for stealing money – Murdaugh claimed he was the victim of a drive-by shooting.
He kept up the story for days, with jurors shown a police sketch of an imaginary man he claimed had been ambushed.
Days later, he admitted to orchestrating the plot, claiming he had asked his alleged drug dealer and distant cousin Curtis Eddie Smith to shoot him in the head so that his surviving son Buster would receive a $12 million life insurance policy.
In addition to Murdaugh's other crimes, the state also presented jurors with a wealth of circumstantial evidence tying him to the murders and revealing how he fabricated an alibi and covered his tracks in the aftermath.
Prosecutors said he killed Maggie and Paul with the "family weapon" and tried to throw investigators off the scent by using two different weapons.
After carrying out the attack, they believe he changed his bloody clothes – with jurors seeing a Snapchat video taken by Paul showing Murdaugh in an outfit just an hour before the murders. In bodycam footage, when the first officer arrived on the scene, he was in a new outfit.
He is also believed to have taken the weapons to his parents' home to hide them.
A blue raincoat was later found in his parents' home covered in gunshot residue. The state alleges Murdaugh used the coat to move and hide the firearms used in the murders.
Throughout the defense's case, they tried to paint Murdaugh as a flawed character and an opioid addict — but one who loved his family and could never have carried out the murders.
While Murdaugh admitted on the stand to lying about his alibi, he tried to convince jurors that he was not the "family destroyer" the prosecution painted him to be.
He also admitted to stealing millions of dollars from his law firm and orchestrating a bizarre botched hitman plot three months after the murders. He is awaiting separate trials in both of those cases.
Among the 14 witnesses called to try to convince jurors of his innocence were Murdaugh's surviving son Buster and brother John Marvin, who said he was "heartbroken" by the murders.
Murdaugh's conviction marks the latest twist in the saga of the man who was once the powerful heir to a South Carolina legal dynasty.
His family had ruled the local judiciary for nearly a century, with three generations of the family all serving as attorneys in the 14th Judicial Circuit's law firm.
Murdaugh continued the family tradition, working at the local prosecutor's office and also at the law firm PMPED, which was founded by his grandfather.
The murders of Maggie and Paul shocked the Hampton County community but also exposed a series of scandals surrounding Murdaugh.
In addition to the case of the boat accident, the fraud scheme, and the botched hitman plot, there are at least two other unexplained deaths with some connection to Murdaugh.
Days after the murders, an investigation was reopened into the 2015 death of Stephen Smith, who was found dead in the middle of the road in Hampton County.
The openly gay 19-year-old had suffered blunt force trauma to the head and his death was officially ruled a hit-and-run. But the victim's family has long cast doubt on this version of events, with the Murdaugh name appearing in several police tips and community rumours.
An investigation was also reopened into another mysterious death linked to the Murdaugh family – that of their longtime housekeeper Gloria Satterfield.
She died in 2018 in a mysterious trip and fall accident at the family home. Murdaugh then allegedly stole around $4 million in a wrongful death settlement from her sons.
Murdaugh also now faces around 100 charges in the multi-million dollar fraud scheme and the roadside shooting case.