For about six years, AI has been an integral part of art Dominic Harrisa digital artist from London who is about to open his biggest exhibition to date.
"I use it to give the butterflies a natural sense of movement," said Harris, whose typical canvas is an interactive computer display.
Using a rack of the latest NVIDIA GPUs in his studio, Harris works with his team of over 20 designers, developers and other professionals to create works of art such as Unseen. It creates a real-time collage of 13,000 butterflies—some whimsical, each unique, but none real. Visitors to the exhibition can make them flutter or change color with a gesture.
The work attracted the attention of experts from natural history museums around the world. Many were fascinated by how it helps people appreciate the beauty and fragility of nature, inviting them to interact with creatures yet to be discovered or born.
"AI is a tool in my palette that supports the ways in which I try to create a poignant human connection," he said.
An artist's view of AI
Harris welcomes the audience's enthusiasm generative AI which arose last year, although it caught him by surprise.
"It's really funny that artificial intelligence in art has become such a big topic, because even a year ago, if I told someone that artificial intelligence was in my art, they'd have a blank face," he said.
In the future, AI will assist, not replace, creative humans, Harris said.
"With every performance improvement in NVIDIA products, I'm able to expand what I can express in a way that allows me to create more and more incredible original works of art," he said.
Live stock exchange
By combining touch screens, cameras and other sensors, he aims to create a connection between his artworks and the people who view and interact with them.
Example, Boundless creates an eight-foot-tall interactive tower consisting of gold blocks animated by live data from the London Stock Exchange. Each block represents a company, shining or tarnished, depending on its current rise or fall in value. When you touch the tile, you can see the face of the CEO of the company, reminding that the economy is run by people.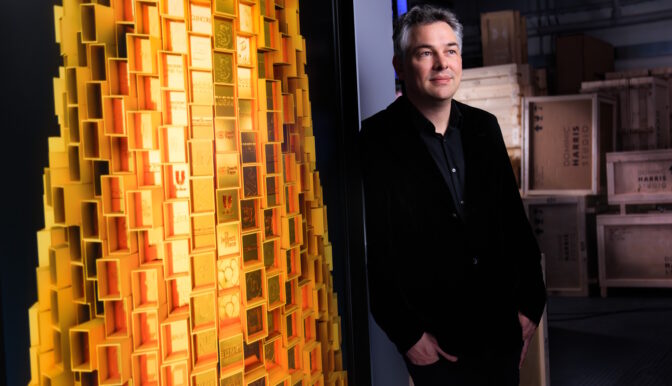 This is one job in Feeding the mindHarris' biggest exhibition to date, opening on Thursday 25 May at London's Halcyon Gallery.
Download invitations
"It was extended before the show even started," he said, showing invitations sent out on small tablets with video previews.
The NVIDIA Jetson The edge AI and robotics platform "features prominently in this event and has been a bit of a workhorse for me in a lot of my work," he said.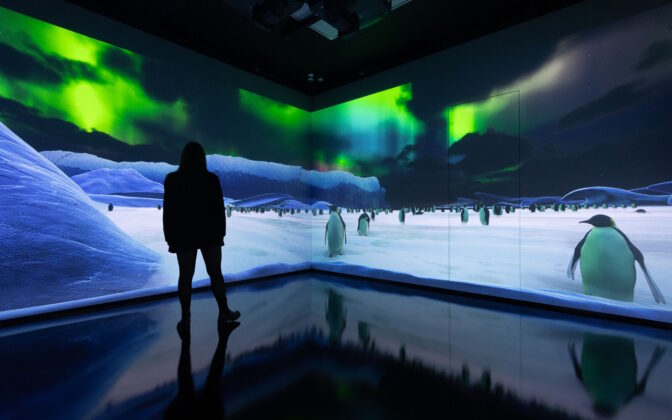 The three years in the making of the new exhibition includes one work that uses 180 displays. It also features an immersive space created with eight cameras, four laser rangefinders and four 4K video projectors.
"I like to create unique canvases to tell stories," he said.
Example, Endurance depicts the polar scenes experienced by Sir Ernest Shackleton's expedition when their ship became trapped in the ice off Antarctica in 1915. All 28 men survived, and the wreck was discovered last year while Harris was working on his piece.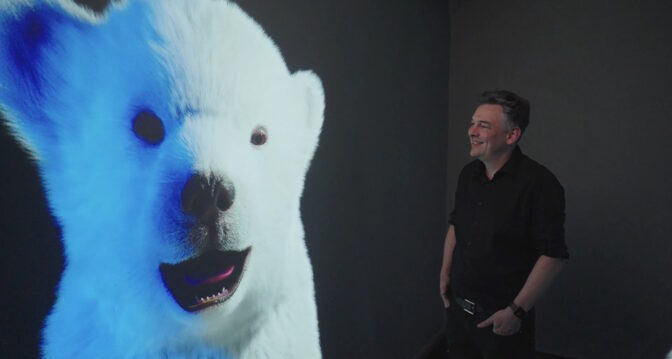 "I was inspired by people who must have felt small in the face of the forces of nature and the changing roles 110 years later, now that we know how fragile these environments really are," he said.
Writing software in Six
Harris started coding at the age of six. When his final project at architecture school, an immersive virtual sound installation, won awards at University College London, it set the stage for his career as a digital artist.
Along the way, I've grown up with the NVIDIA name, and graphics cards have become part of my palette that I've come to rely on more and more—I use phenomenal CPU power to render some of my work," he said.
For example, next month he will install Each wing has a silver liningA 16-meter work measuring 30,000 x 2,000 pixels, created in part by GeForce RTX 4090 graphics processors.
"We use top-of-the-line hardware to achieve incredible levels of detail," he said.
He shares his passion in school programs by giving children a template to use to draw butterflies, which he later brings to life on a website.
"It's a way to get them to see and embrace art in the technology they're growing up on," he said, comparing it to NVIDIA Canvasa digital drawing tool that his six- and 12-year-old daughters love to use.
The Feeding the mind The exhibition, previewed in the video below, runs from May 25 to August 13 in London Halcyon Gallery.